Ready for a Revolution?
Come in and find out more about Leistritz HYPER Technology for Hygienic Pumps
Changing the high tech game. The HYPER technology of our new HYPER pump series sets the pace in performance standards.
Strong on performance, gentle on your product and plug-and-play operation are just three major benefits that take your productivity and quality to a new level.
The HYPER level.
Expect HYPER Quality.
Your no-compromise policy on quality in food, beverages and pharmaceuticals production matches ours. Hygienic perfection, efficiency and product protection likewise for convenience foods, fruit juices, ketchup, milk products, cremes or pastes. Trust us to take care of pumping your product exactly as you need it.
Leistritz HYPER Screw Pumps
Performance parameters at a glance



Game Changing Benefits
Move to the next performance level using our HYPER screw pump technology. It's much more than a hype. It relies on profound process expertise and the world's largest range of screw pump solutions.
High on pump performance
Our screw pump technology provides you with a combination of high performance and minimised pulsation for perfect integration in your production line.
Gentle to products
Ensure the consistent quality of your product thanks to gentle pumping
Hygienic in stainless steel
HYPER pumps are available as a single unit, completely finished in stainless steel and with integrated drive.
Perfect in hygienic standards
The unique Leistritz HYPER body design is optimised for hygienic production, smooth and rounded – without obstructive corners, edges or welding seams. Easy to clean, inside and out
Certified on quality
HYPER pump solutions are designed for residue-free cleaning, following the
EHEDG and 3-A Sanitary Standards.
Strong on expertise
Leistritz owns the world's largest range of screw pump solutions. Our engineers are strong on understanding your specific process requirements, their expertise is proven in many industries.
Discover Leistritz Pump Solutions
HYPER3: Triple screw pump technology with efficiencies of up to 96%
HYPERTWIN: Twin screw pump technology for particle sizes to Ø 41 mm
Download product brochure
Why you can count on Leistritz Hygienic Pumps

Count on high performance and efficiency for exceptional precision dosing and maximum product protection.

Count on hygienic excellence. Leistritz HYPER pumps come with a special, easy-to-clean Leistritz hygienic body design and optimised CIP and SIP operation.

Rely not only on high-quality products Made in Germany – but also on global services that support you in your industry applications around the world – at your side and digitally remote.
A large product range covering viscosities, flow volumes and pressures, optimised product protection even for shear-sensitive applications and high precision on dosing distinguishes the new Leistritz HYPER pump series
Angelo Perna
Product Manager - Leistritz Hygienic
You want to find out more?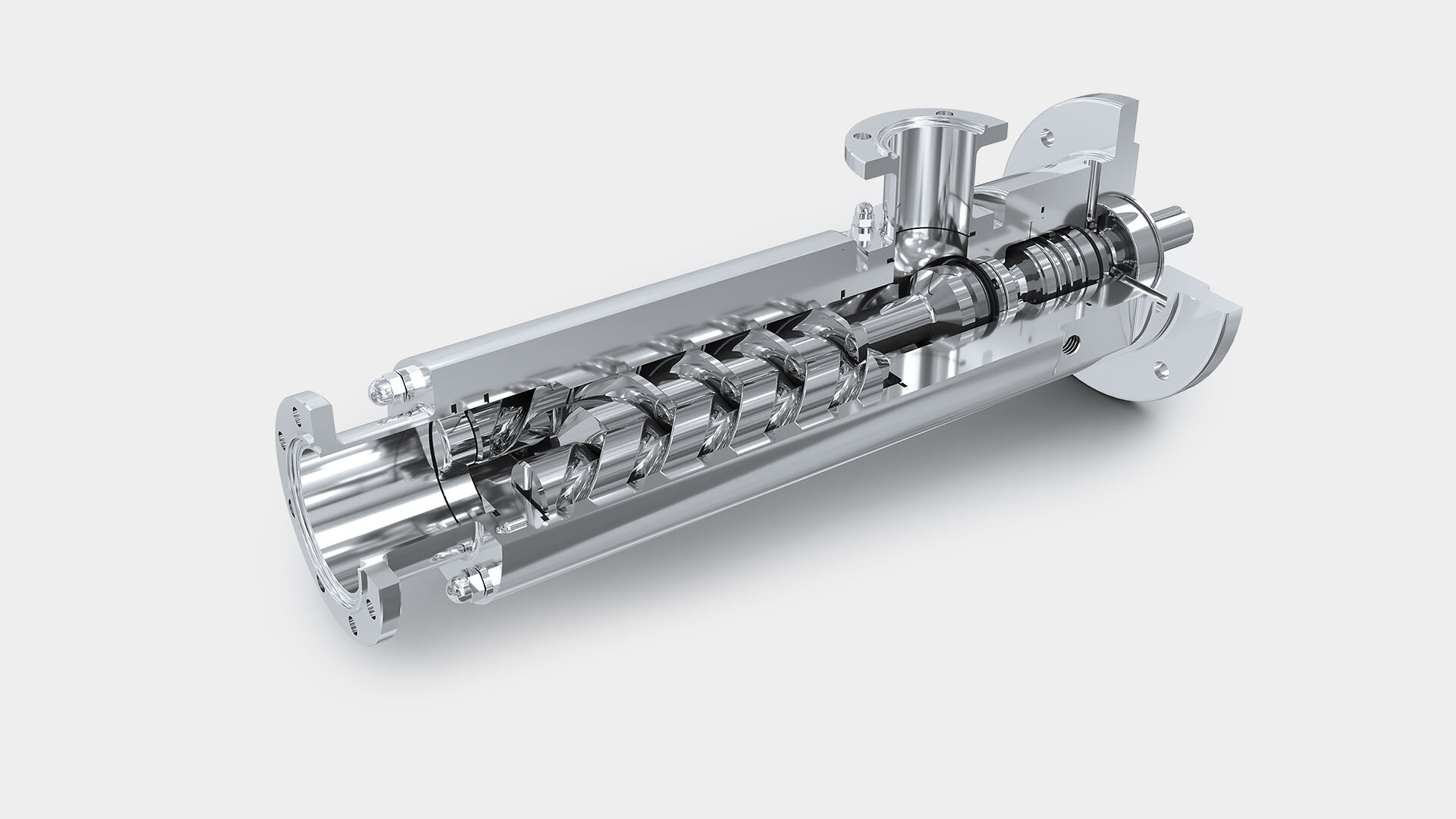 Powerful. Patented. Precision Dosing.
A best-in-class solution thanks to the unique triple spindle technology provides highest product protection and precision dosing, even in smallest quantities. Combine that with unrivalled efficiency and compact design – hyper tech is truly changing the game.
How HYPER achieves this…
A unique triple screw design relies on a hydrostatic floatation principle that achieves a significantly improved, cleaner volumetric performance of up to 100%. In addition, the technology is exceptionally gentle to your product, even with high microshear sensitivity.
A Game-Changer in Hygienic Pump Technology!
1
Efficiency up to 96%
Premium performance and efficiency combined with low pulsation and less energy consumption.
2
Precision Dosing
Even smallest product quantities can be dosaged with high precision – thanks to tight tolerances.
3
Oil-free Operation
Absolutely oil-free operation, ensuring top hygienic reliability for both your product and the pump installation. Optimised CIP- and SIP operation.
4
Easy Maintencance
Simplified plug-and-play maintenance thanks to fewer parts and a standardised mechanical seal (DIN K)
5
Unique Design
Triple screw technology in compact design equals low weight.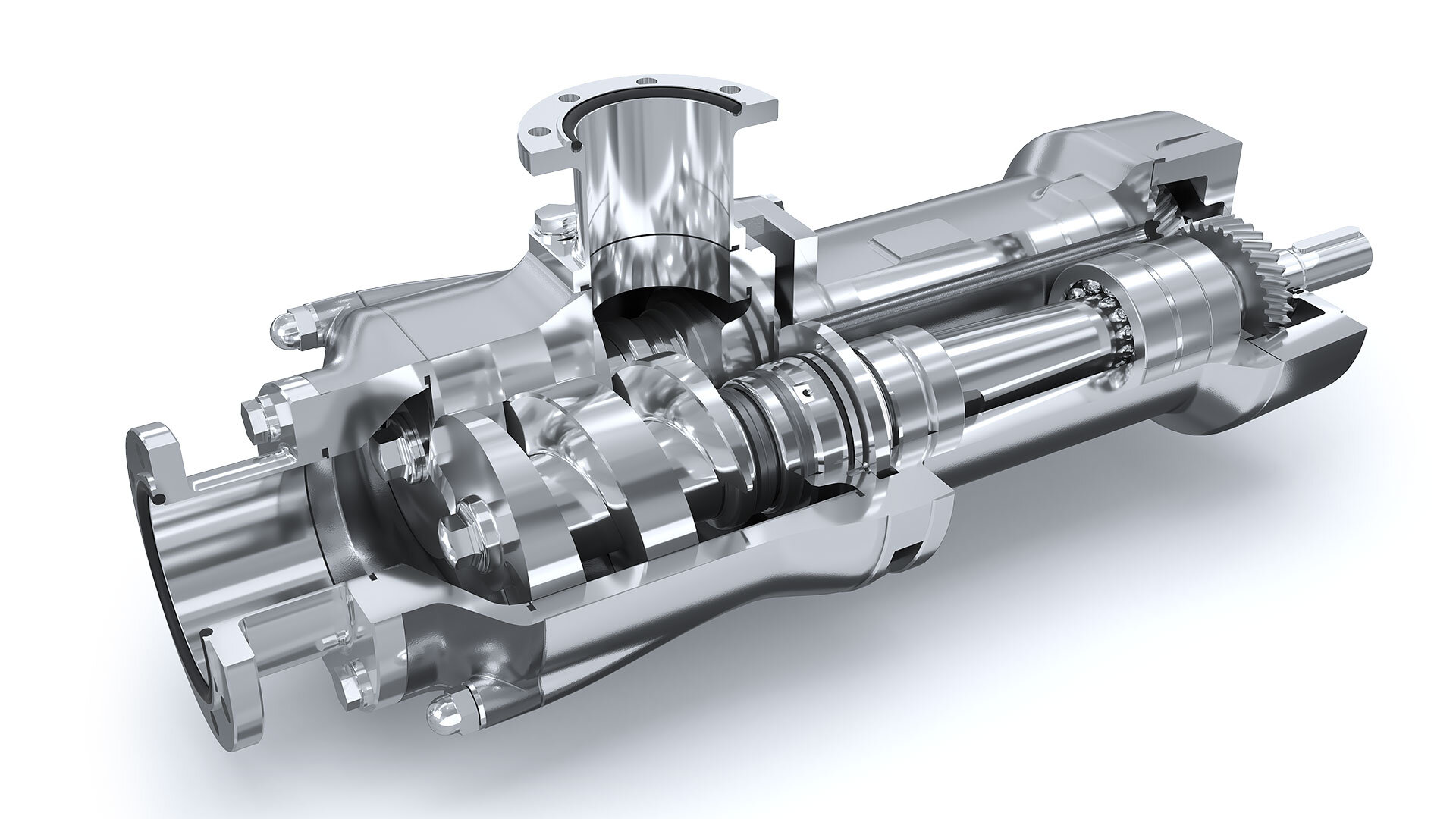 Strong on Volume. Gentle on Product and Pieces
Perfect for products with large air enclosures and chunky particles. HYPERTWIN is a twin screw innovation that handles both high volume and particle sizes up to Ø 41 mm with gentleness and ease.
Plus: pulsation is noticeably reduced, minimising impact on your production line.
1
Particle Sizes up to Ø 41 mm
Ideal for high volume flow to 100 m³/h and particle sizes to Ø 41 mm. Low pulsation.
2
Easy Plug and Play Operation
Pre-synchronised for plug-and-play operation. No subsequent synchronisation needed, not even after maintenance.
3
Easy Installation and Maintenance
Optimised installation and easy maintenance thanks to a new cartridge seal unit. It is simple to service and can be re-used.
4
Easy to Clean
Signficantly faster, safer cleaning inside and out thanks to the new Leistritz hygienic body design. Optimised CIP and SIP operation to 191 m3/h.
5
Large Viscosity Spectrum
Reliable pumping of broad scope of products, viscosities and volumes
Hygienic Pumps. Simple. Smart.
Find more information about our screw pumps for food, beverage and pharmaceutical production in the product brochure.
You have questions on our solutions? Your personal contact is looking forward to your message and will help you gladly.